For the 23rd year in a row, Internautica returns to the sunny environs of Marina Portorož, Slovenija, from 17th to 20th May 2018.
Hosting local, national, and international exhibitors and visitors, Internautica is the most anticipated event of the boating calendar. Enthusiasts and professionals from all over the world will enjoy exclusive nautical events, discover exciting new marine products, and attend the prestigious Adriatic Boat of the Year awards.
With over 30% more exhibitors expected than last year, Internautica is on track for yet another record-breaking show. Visitors will experience a diverse display of new yachts and sport boats, accessories, and technology to kickstart 2018's summer boating season in style. Our early bird discount for exhibitors has closed, but if you'd like to share your products or services with over 15,000 visitors, there are some limited spaces left.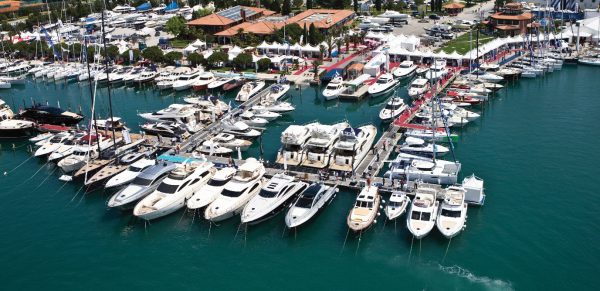 Internautica remains an industry trendsetter. From yachts to inflatables, catamarans to power boats, electronics and nautical equipment to fashion, expect to see all your favourite brands, including Absolute, Azimut, Bavaria, Bayliner, Cranchi, Dreamline, Elan, Ferretti, Greenline, Hanse, Marex, Monterey, Pershing, Princess, Riva, Sessa, Sea Ray, Solaris, Windy and many others. You'll find everything a boater might need, as well as expert advice for your next voyage.
There will be several premieres of exciting and prominent new yachts expected. We've worked hard with our partners to offer our visitors exclusive access to the latest designs, giving you a sneak peek at 2018's most innovative debuts.
For land explorers, you can scout out new equipment for your next adventure. There'll be an extensive selection of caravans and caravanning goods, as well as sports, hiking, and camping gear for those who love the great outdoors.
As well as discovering the latest marine products, Internautica offers a chance to network with some the most talented minds in the marine industry. There will be expert seminars, boat tests, and competitions enabling visitors to learn latest news from the personal experience of those making it happen.
Our Stand-Up Paddling championship returns for beginners and experienced paddlers alike. And for those wanting to test their skills against the best of the Adriatic, there will be a series of sailing regattas on the Gulf of Piran – so make sure you bring your sea legs.
As a part of Internautica's efforts to promote sustainability, Green Avenue will return to showcase environmentally-friendly products and activities. From electric vehicles and vessels to nautical equipment, visitors can explore how easy and how important it is to go green with live demos, expert advice, and dedicated product tours.
The revered Adriatic Boat of the Year award will once again recognise the best of last season's craftsmanship at the Exhibitor's Gala. In partnership with Navtika Plus (Slovenija), More Magazine (Croatia), Yachts Croatia (Croatia), Nauticki Magazine (Serbia), Nautika Magazine (Serbia) and Barche Magazine (Italy), our expert judging panel will preside over the top boats that made their maiden voyage last year. With so many excellent craft to choose from, it always draws a large crowd.
Internautica promises to continue the tradition of nautical excellence.